Vitalize Max 2oz Shot
Regular price

Sale price

$6.99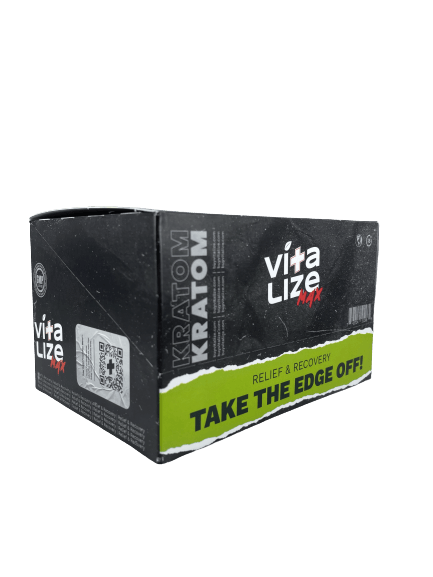 Product Details
Total Relief Proprietary Blend tm: 250mg
L-Theanine, Kratom (Mitragyna Speciosa)
Other Ingredients: 
Filtered Water, Sugar, Natural Flavors, Citric Acid, Potassium Sorbate, and Glycol and Sodium Benzoate (preservatives)
Maeng Da kratom is the most highly potent strain of kratom available. That's because Maeng Da contains more of the Mitragynine, 7-hydroxymitragynine and mitraphylline active compounds than the other varieties of kratom. Maeng Da is known for its high alkaloid properties and its ability to blend the pain relief qualities of red kratom with a stimulating boost of energy, the kind you find in Vitalize Max. Maeng Da can help you feel more awake and some have reported that it can help keep you focused and able to concentrate better. As a result, you can be more productive, with less fatigue when you are working, studying, or other mentally demanding times. In addition, Maeng Da has been known to have a positive effect on mood where you can feel a sense of contentment with a positive attitude with more enthusiasm.
Maeng Da has also been known for its ability to provide a sense of relaxation and manage pain symptoms and is one of the strongest analgesics in the Mitragyna speciosa family. 
What distinguishes Vitalize Max from other kratom products?
It has more Maeng Da kratom than any other product on the market

It tastes like a blended herbal tea

It is readily available

It comes in a grab-and-go single-serve container
Vitalize Max is manufactured in the United States from the finest internationally-sourced Maeng Da kratom and the following domestic herbal ingredients: